Butter Festival in Dayara Bugyal transforms Holi into a playful event featuring butter and buttermilk instead of traditional colored powders. Celebrated amidst the stunning backdrop of Dayara Bugyal, this festival holds special significance for the local villagers.
Holi is a beloved festival worldwide, but in the remote region of Raithal in Uttarkashi, India, a distinctive celebration unfolds at an elevation of 12,000 feet.
At Dayara Bugyal, villagers gather to pay tribute to their local deities, expressing their gratitude for safeguarding their livestock during the springtime. This extraordinary festival has gained global recognition, further establishing Dayara Bugyal as a renowned trekking destination.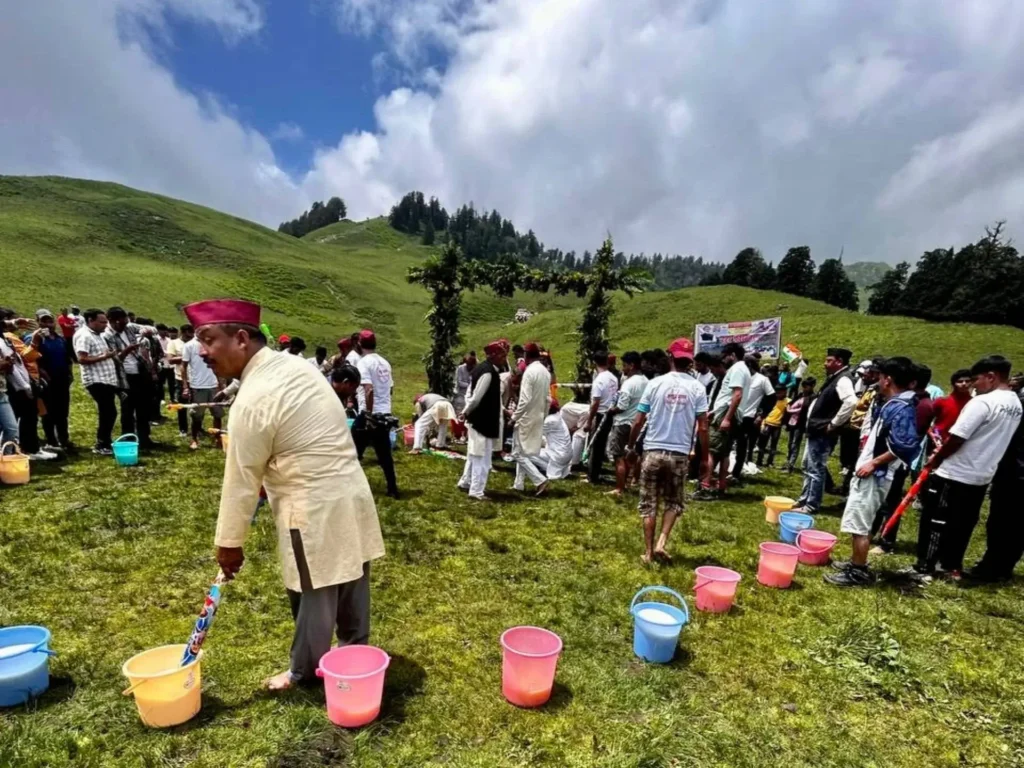 Before, few people were aware of them, and now social media and the rise in Indian tourism are among the factors contributing to the popularity of these previously unknown distant locations.
You will learn about a Holi celebration today where Radha ji and Lord Krishna will be present, and you will play with butter rather than colors.
Holi is played here with butter, and you may eat and smear butter on each other as well as paint each other with it. Is it thrilling? What if I informed you that people celebrate this Holi on vast meadows (often referred to as "Bugyal") at an altitude of 12,000 feet? How would you feel in that case? What would you say then?
The Raithal village of Uttarkashi in Uttarakhand is one such location in India. The settlement of Raithal serves as the Dayara Bugyal's base camp and is widely renowned for hiking adventures.
When you add a distinctive Butter Festival to Raithal's rich historical and cultural legacy, the experience will be unlike anything else. Raithal is widely known for its rich history and cultural heritage. This event is held at Dayara Bugyal, a community with enormous meadows (spread over 28 square kilometers) a few km from Raithal.
Importance of Butter Festival in Dayara Bugyal
Dayara Bugyal has a different appearance in the springtime each year after the snow has melted. A carpet of flowers and beautiful green grass covers it.
The residents of Raithal village transfer their cattle to the meadows during this season, where they dwell for several months while constructing temporary shelters for themselves.
Because of the abundant presence of lush grass and medicinal plants in Dayara Bugyal, the villagers hold the belief that their cattle will experience improved health, resulting in a substantial increase in both the quantity and quality of milk production.
Consequently, they remain in the area until at least the onset of the monsoon season.
The residents of Raithal will then travel to Dayara in the month of Bhadrapad, also known as Bhado (which typically occurs between August and September), to retrieve their livestock as soon as they are healthy.
This return is then celebrated as the 'BUTTER FESTIVAL,' and the locals call this festival 'Andhuri.'
The purpose of this event is for the villagers to express their thanks to nature for her blessings, for keeping their livestock healthy, and for providing for them. Weeks of preparation lead up to a single day of festival celebration.
The villagers of Raithal extend invitations to their near and dear ones, including family members and friends, to join in the celebration of this festival. Through this celebration, they symbolically convey the return of their livestock to the village.
The houses are adorned with decorations, and a tradition they follow involves hanging 'Pooris' (a type of deep-fried Indian bread) on their doors. In the past, people used to throw cow dung on the guests, but over time, they replaced this practice with offering butter and buttermilk.
This distinctive festival draws considerable interest from tourists worldwide, and people continually incorporate additional elements to enhance its visual appeal.
Like other states celebrating Janmashtami with fairs, this place also hosts a fair on this auspicious occasion. People organize events like Dahi Handi, bringing an abundance of butter and buttermilk to Dayara and applying them to their faces and bodies, similar to how we use colors during Holi.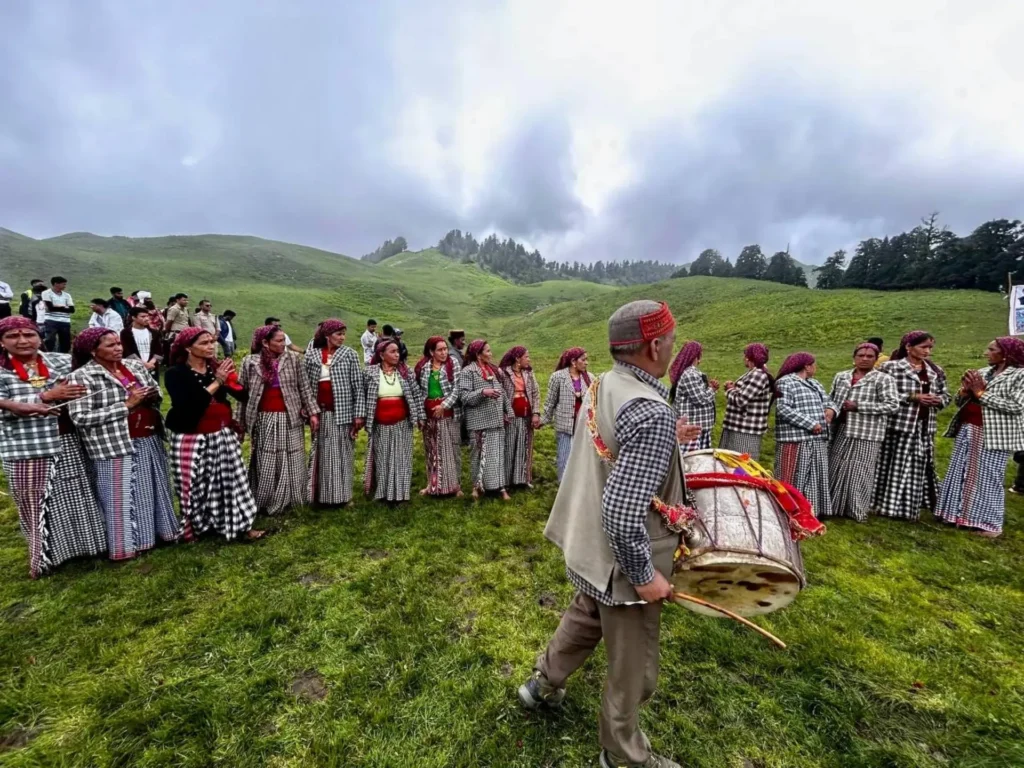 As this festival gains popularity, more people are participating in it. The atmosphere has become diverse, with a variety of folk dances being showcased, including Barada Nati, Jhora, Chholiya, Thali Nritya, Langvir Nritya, Rasu Nritya, and the highly anticipated 'PANDAVA NRITYA,' which attracts visitors from distant places.
Deities that are being Worshipped in Dayara Bugyal during the Butter Festival
Lord Somkareshwar
Lord Someshwar is the local deity of many villages in Uttarakhand, just like Raithal. In the Himalayan region, Lord Shiva holds a position of profound reverence, and people offer their prayers to him for the well-being and prosperity of their communities.
Lord Omkareshwar, similar to deities like Bhairava and Lord Kshetrapal, is considered an intrinsic aspect of Lord Shiva himself, and they are worshipped with the same devotion and reverence as Lord Shiva.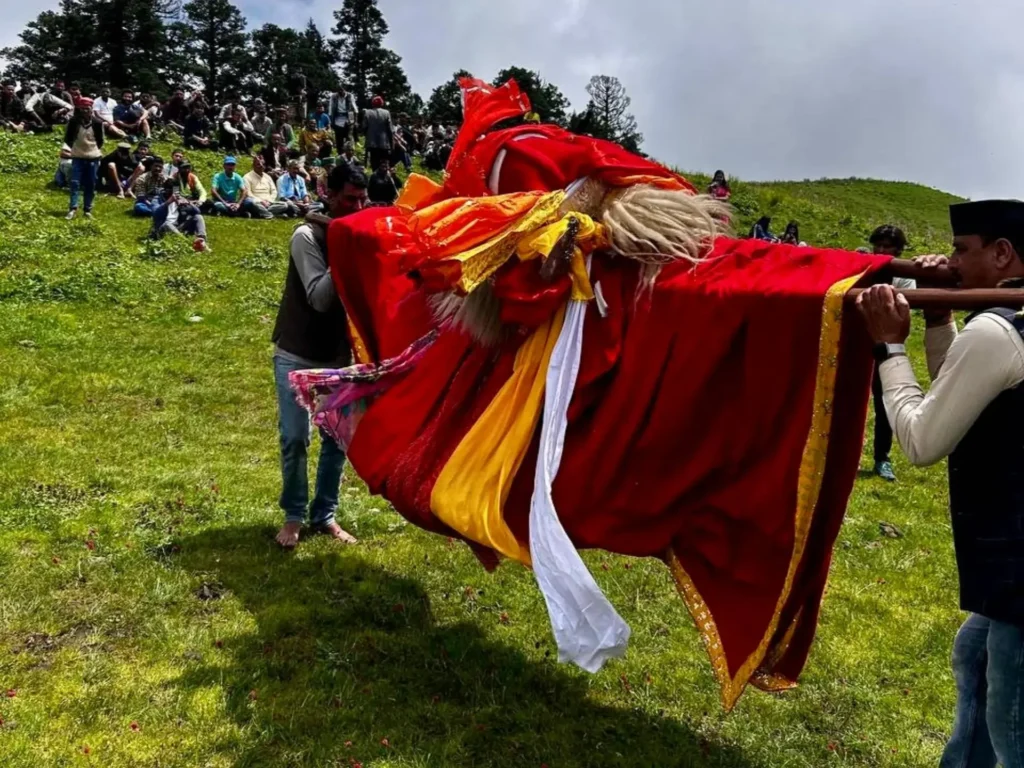 Goddess Bhagvati
Parvati, the beloved consort of Lord Shiva, is revered for her nurturing and protective qualities, while Goddess Bhagvati is often regarded as the male counterpart of the divine.
Nature spirits (Fairys)
The mountains, woods, and water bodies' numerous natural forces and spirits are frequently worshipped in the Himalayan culture for their protection and benefits. Locals usually call them 'Aachri'.
Guardian Deities
Jeetu Bagadwal, one of the primary guardian deities of the village and Dayara Bugyal, was spirited away to another realm by the fairies.
However, the unwavering belief of the villagers is that he continues to safeguard their livestock. As a result, they venerate him in the form of their revered deity.
Agricultural Deities
Deities linked to agriculture and fertility may also be worshipped since the celebration may be associated with the harvest or agricultural pursuits.
Local village deities (Bhairav Devta, Narsingh Devta, Kshetrapal Devta)
In many of Uttarakhand's villages, residents worship their native deities and protector spirits as a means of luck and protection.
How To Reach?
If your journey begins in Delhi, you can choose between taking a bus train or reserving a plane ticket to Dehradun.
Upon reaching Dehradun, you can opt for a bus or book a taxi to reach Uttarkashi.
Continuing your journey from Uttarkashi towards Gangotri, you'll encounter the village of Bhatwari, which is located 32 kilometers away from Uttarkashi.
Following Bhatwari, there will be a turnoff leading uphill to the village of Raithal, which is 10 kilometers from that point.
The trek to Dayara Bugyal commences from Raithal.
The trek from Raithal to Dayara bugyal will be 38 kilometers.
Dayara Bugyal offers a picturesque landscape with lush greenery from May to October. In contrast, from December to March, the meadows transform into a snowy wonderland, making it an ideal destination for a winter trek.
You can also Trek with us for Dayara Bugyal, to know more about Dayara Bugyal, available dates and more, click here.
Places To Stay near Raithal (Uttarkashi)
Raithal homestay– This house in Raithal boasts a rich history, with construction dating back 500 years. Its architectural design draws inspiration from the quake-resistant Koti Banal style, which has withstood numerous earthquakes. This makes it a secure and reliable structure in Uttarkashi, known for its susceptibility to natural disasters.
Atal Homestay
Garhwal Mandal VIkas Nigam(G.M.V.N)
Aastha Homestay Raithal
Raithal Barbeque Homestay
Garh Dayara chhani homestay
Dayara Dreamland Homestay Raithal