Rent a Gear
from HDT
We understand the importance of reliable gear when embarking on an adventure in the Himalayas. To ensure your trek is not only memorable but also comfortable, we offer a range of high-quality gear for rent. That's why we've carefully curated a selection of high-quality trekking equipment, ensuring that you have the tools you need to navigate the diverse terrains and embrace the challenges that await you.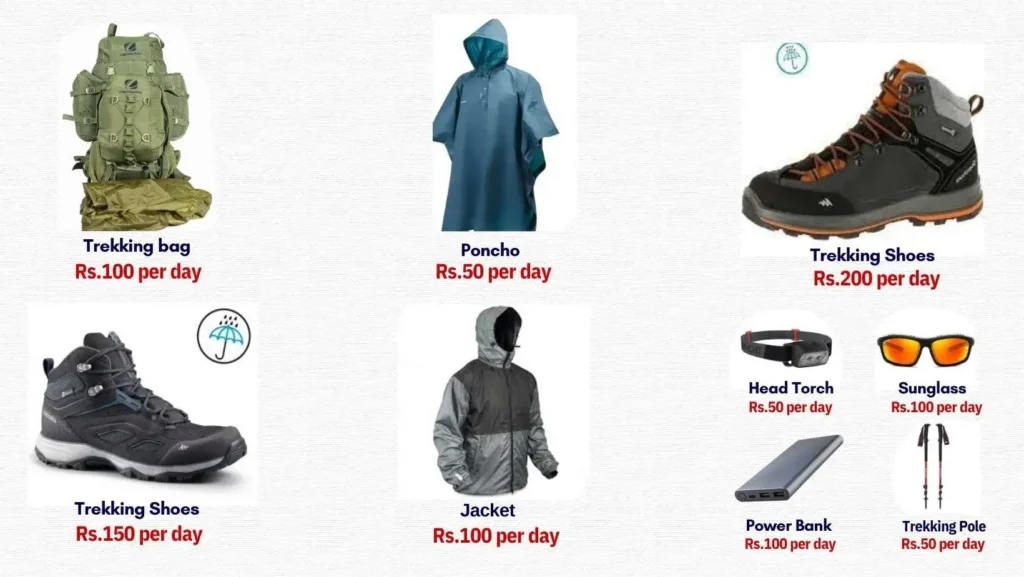 Why Rent from Himalayan Dream Treks?
We believe that renting trekking gear should be a simple and hassle-free process, allowing you to focus on the excitement of exploring the Himalayas. With our commitment to quality, convenience, and customer satisfaction, we're confident that Himalayan Dream Treks is your ideal partner for a memorable and well-equipped Himalayan adventure.
Quality Products You Can Trust
At Himalayan Dream Treks, we take pride in offering top-notch gear that has been carefully selected for its durability, performance, and suitability for the challenging Himalayan terrain. Our commitment to quality ensures that you can focus on your adventure without worrying about the gear.
Expertly Maintained Equipment
Before each rental, our gear undergoes rigorous inspections and maintenance to guarantee that it meets our high standards. We believe in providing equipment that not only enhances your trekking experience but also keeps you safe in unpredictable mountain conditions.
Renting Gear from Himalayan Dream Treks? We've made it easy for you!
Step 1: Browse Our Selection
We offer a wide variety of gear to suit your trekking needs. Whether you're an experienced hiker or a novice adventurer, we have the equipment you need to make your trek a success.
Step 2: Book Your Rental
To ensure you get the gear you need, it's essential to book your rental in advance. Contact us at [email protected] / +91 8089693825 and provide the following information:
The details of your trek

The gear items you require

Your contact details and valid ID card
Step 3: Pay Your Deposit
At the time of booking, we request a deposit of 50% of the total rental fee.
Step 4: Provide Your ID
For identification purposes, please present a valid ID card when booking and picking up your rental gear.
Step 5: Pick Up Your Gear
Your rental equipment will be available for collection at Base Camp. Upon pick-up, please bring your ID card and settle the remaining 50% of the rental fee.
Step 6: Enjoy Your Trek
Embrace the beauty of the Himalayas and embark on your trekking adventure with our reliable rental gear.
Step 7: Return Your Gear
Please ensure you return all rental gear to Base Camp in good condition by the end of your rental period.
Step 8: Collect Your ID
Upon returning your rental gear in satisfactory condition, you will receive your ID card back.
Our Gear Rental Options:
Trekking Bag – Rs 100 per day

Poncho – Rs 50 per day

Trekking Shoes (Standard) – Rs 200 per day

Trekking Shoes (Economy) – Rs 150 per day

Jacket – Rs 100 per day

Sunglasses – Rs 100 per day

Head Torch – Rs 50 per day

Power Bank – Rs 100 per day

Trekking Pole – Rs 50 per day
Rental Terms and Conditions:
Rental Period: Gear is rented on a daily basis, and the rental period starts from the day of collection and ends on the day of return.
Payment Terms: A deposit of 50% of the total rental fee is required at the time of booking to secure your gear. The remaining 50% of the rental fee is due upon pick-up of the gear at Base Camp.
Gear Pick-up and Return: Gear pick-up is at Base Camp only. Gear must be returned to Base Camp in good condition.
Damage or Loss: In case of damage or loss of rented gear, the renter is responsible for compensating Himalayan Dream Treks for the replacement cost of the item.
Cleaning and Maintenance: Renters are expected to return the rented gear in a clean and undamaged condition. Himalayan Dream Treks reserves the right to charge a cleaning fee if the gear is returned in an excessively dirty or damaged state.
Late Returns: Late returns will incur additional charges calculated based on the daily rental rate.
Cancellation Policy: Cancellations must be made at least 48 hours in advance to receive a refund of the deposit. Cancellations made within 48 hours of the rental date will forfeit the deposit.
General Terms and Conditions: By renting gear from us, you agree to the terms and conditions listed above. We reserve the right to refuse service to anyone who does not comply with our terms and conditions.
Please note that these terms and conditions are subject to change without notice. We recommend that you review these terms and conditions each time you rent gear from us.
Contact Us:
For inquiries or to place a rental order, contact us at [email protected] / +91 8089693825