The Himalayas have always been a dream destination for adventure enthusiasts, offering breathtaking landscapes and an exhilarating challenge.
In an unprecedented initiative, we at Himalayan Dream Treks (HDT) organized the Gaumukh Marathon on the 6th and 7th of October 2023, an event that etched its name in history by being the first marathon to take place in Gangotri National Park.
With around 60 spirited participants, this marathon was not just a milestone for HDT but a memorable adventure for all who participated.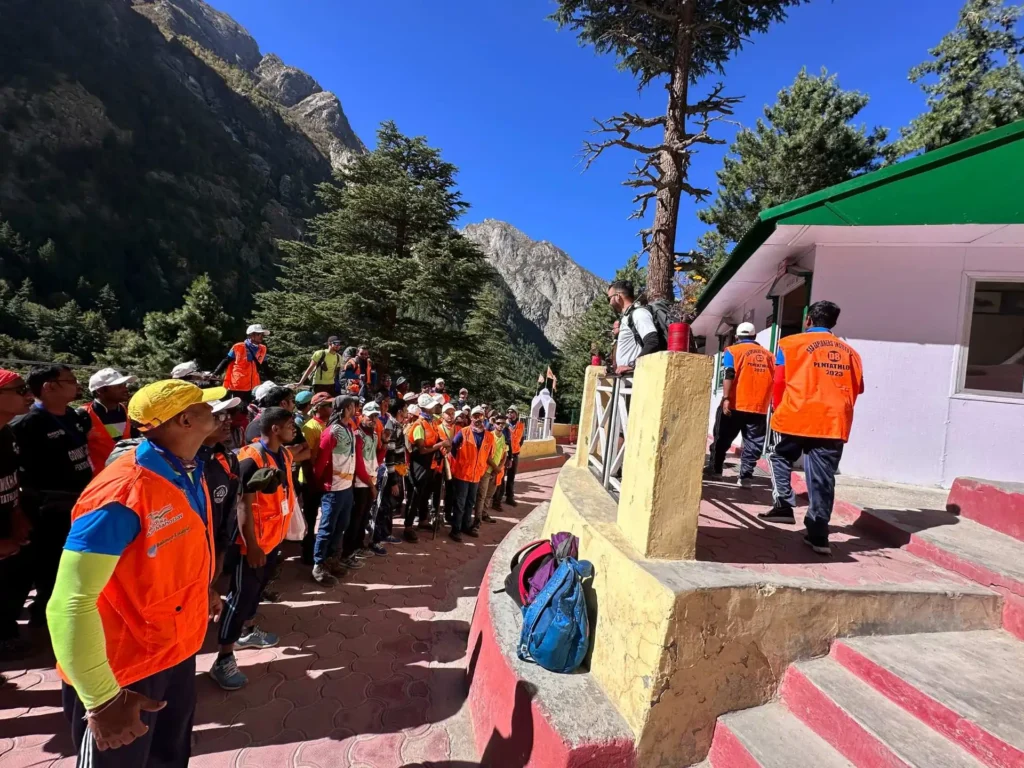 The journey began with participants converging in Uttarkashi on the first day. On day two, the adventure continued as we made our way from Uttarkashi to Gangotri. The third day was dedicated to acclimatization in Gangotri, ensuring that our participants were prepared both mentally and physically for the adventure that awaited them.
HDT's meticulous planning ensured that everything went off without a hitch. Welcoming the participants, providing essential briefings, and a sumptuous dinner set the tone for the marathon. With an early bedtime, everyone was ready for an early start the next day. Day four marked the official start of the marathon, from Bhojwasa to Gaumukh.
To ensure the safety and success of the marathon, participants were organized into teams, each with its dedicated instructor. To avoid any rush and minimize the risk of injuries, the marathon was flagged off at different times, with intervals of 20 to 25 minutes between each group.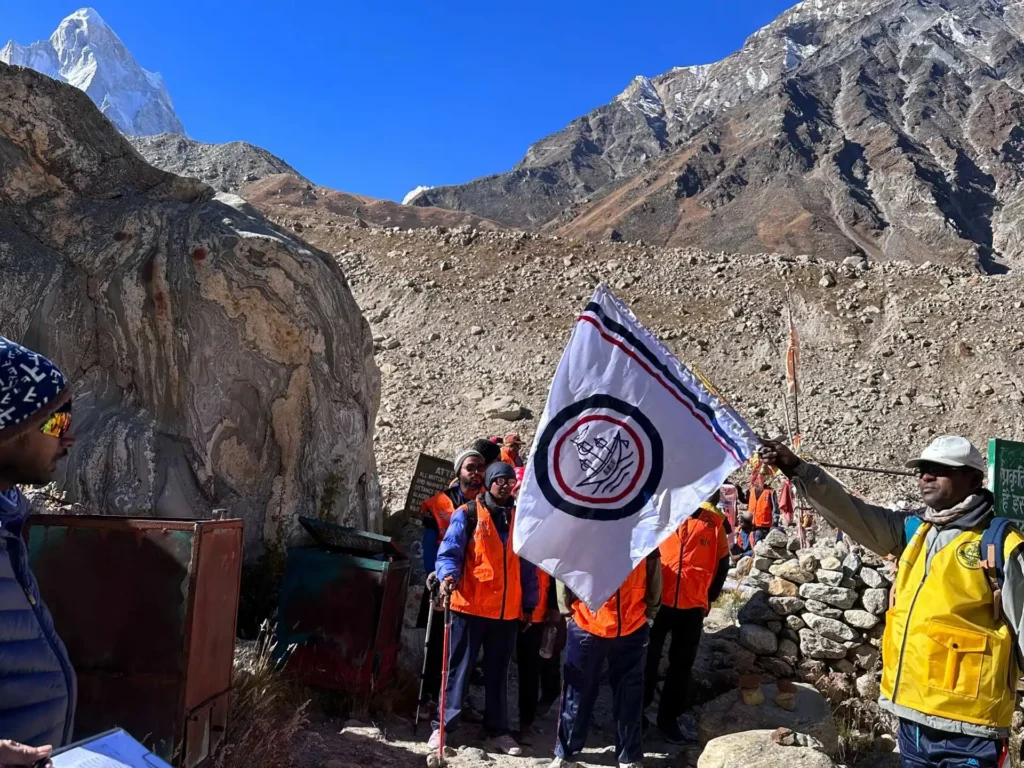 The distance covered was around 18 to 19 kilometers, and the fastest completion time was an impressive 3 hours and 4 minutes.
Himalayan Dream Treks' commitment to the safety and well-being of our participants was unwavering. We facilitated the necessary permits in Bhojwasa, organized comfortable accommodation, and provided nourishing meals.
But our support went beyond that. We had expert first-aid teams in place, and our participants had the privilege of being guided by renowned instructors who knew these terrains like the back of their hands.
Challenges We Faced Organizing Marathon in Gaumukh
Challenges were minimal, thanks to our team's thorough preparations and participant briefings. We understand the responsibility we bear not just towards our participants but also towards the local communities and the environment we traverse.
As a responsible adventure travel company, we ensure that our events leave a positive impact on the Himalayan ecosystem and its communities.
Logistics Challenges: Carrying tents, rations, equipment, and supplies for the number of participants we had was a logistical feat. It involved hiring numerous porters and mules and several rounds to transport everything to Bhojwasa finally. The preparations began a week prior to ensure everything was in place.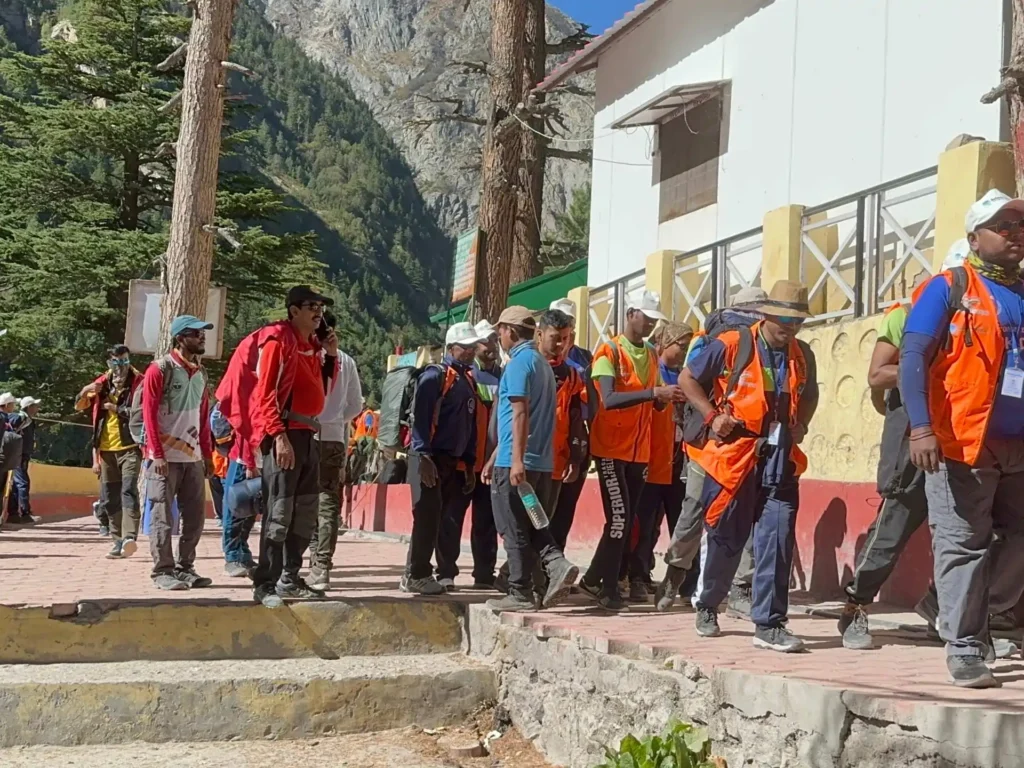 Trolley Challenge: Transferring many people through trolleys in Bhojwasa was initially a challenge that could have consumed a significant amount of time. To overcome this, we implemented a river-crossing strategy. We carefully selected a location with a slow and calm river flow and took all necessary precautions, including safety measures for crossing the glacier-cold waters.
Safety and Crowd Management: Ensuring the safety of all participants was paramount. The route was often tricky, with narrow passages. We were determined to avoid any rush that could lead to accidents. To manage this, participants were flagged off in batches, allowing for a more controlled and safer experience. Our experienced guides and instructors were there to provide constant support.
AMS Prevention: Altitude sickness (Acute Mountain Sickness – AMS) was a potential concern, particularly for participants coming from sea-level regions. To address this, we took proactive measures to educate participants about AMS, and our team was vigilant in monitoring for any signs of AMS to ensure everyone's well-being.
The Gaumukh Marathon was an incredible success, and we're excited to announce that it's just the beginning. Himalayan Dream Treks is committed to making this event even more organized, with registrations opening six months in advance next year.
If you're eager to join us for another thrilling adventure in the heart of the Himalayas, stay tuned to our social media channels and other platforms for updates.
Gaumukh Marathon Video